Company Overview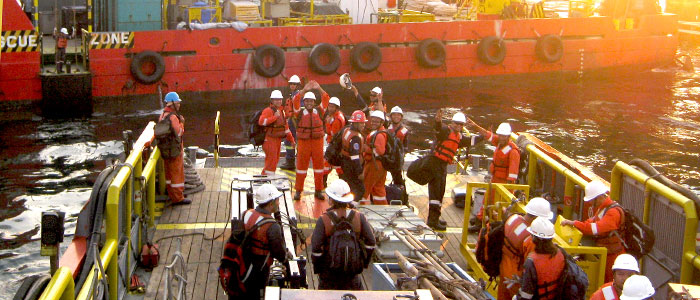 Lantana Services is an offshore marine business partner that has established a regional and international reputation for providing marine based offshore services by utilizing our own fleet of multi-purpose vessels. Establish in June 2003 in Brunei. We are proud to be ISM & ISPS certifies company By Bureau Veritas and Marine Department for vessels in order to:
Promote the safety of ship's staff and others
Promote the safety and security of the ship and cargo
Support measures for protecting marine environment
Contribute towards implementation of company policy
Lantana Services is managed by a team of highly skilled, experienced and dedicated professionals with many years of shipping background and operational expertise to handle offshore operations. We take ownership and embrace the owners' approach, allowing ship owners to secure and service long term contracts from the most demanding charterers.
We take challenges as opportunities. We enjoy working hard and making things happen.
Why Lantana Services?
We listen to our customers & our partners
We provide professional, experienced and skilled staff
We offer a comprehensive selection of marine and support services
We leverage on our technical and logistical expertise
We strive to achieve "On time, On Budget" targets, without compromising operability and safety standards
We are committed to our vision to be preferred solution provider to oil companies in the oil and gas industry
Our Vision

To be best-in-class and preferred marine solutions provider for oil & gas industry in South East Asia based on a foundation of quality products and services through reliable customer service delivery, continuous process improvement and people development.

Our Mission

Provide services with integrity, discipline and innovation
Recognized as valued service provider by its customer
To prevent human injury, loss of life and to avoid damage to the environment by pursuing a policy of zero accidents and zero spills
To encourage and foster an innovative spirit with the aim of continuously seeking improvements to the quality and services offered by us to our customers
To build a long lasting relationship with our customers and employees and to continuously aim to excel industry's highest standards

Core Value

Strength through Stability & Continuity
Quality through professionalism and reliability of services'sTeamwork within and with our clients
Loyalty to our employees at sea and ashore
Creativity and Responsiveness to our customers' needs